Year 2 Update Week 38
Friday 28th June – Last day of the School Year. School finishes at 12:00
LIBRARY
Our school library is now closed for borrowing in order for Mrs Lowe to do a stock take. Please take this opportunity to have a look at home for any books that you may still have.
Please note that you and your child will learn which Year 3 class they will be in on Monday. On Monday afternoon the children will have the opportunity to visit with their new teacher and find out who their classmates will be. There has been lots of speculation we are sure, but please wait until on Monday for the official confirmation.
Reports
Please note that your child's Unit of Inquiry, Maths, English and General Reports  will be available via the Beacon from Monday 24th June. 
What a Year!
A big THANK YOU for making Year 2 such a momentous year!
The children have grown so much in this relatively short space of time. We hope they will enjoy their final week of Year 2 which will be filled with celebrations of learning. The children will also get to watch the Year 6 production which they are very excited about.
As there will be no Weekly Update next week, the Year 2 Team would like to take this opportunity to wish you and your families all the best for the school year ahead and a fantastic summer holiday!
World Wildlife Foundation
On Monday, the children had a visitor from WWF who came to talk about endangered animals you can find in HK. One of the Year 6 exhibition groups also presented WWF with a cheque for over $18,000 that they had raised!
Unit of Inquiry
The children have continued with their posters about different countries. The children have again used Google Drawings to collect photographs of different places for their posters. 
The children enjoyed reflecting on their portfolios before taking them home to share. Please make sure that your child brings their portfolio back to school on Monday if they have not done so already.
Maths
The children have been playing and creating games for each other to review key mathematical concepts.
English
The children have been travel writers, using descriptive language to describe significant features of their chosen country.
Fun Friends 
Next week, we will complete Fun Friends with a final focus on 'D' Don't forget to be brave! Along with 'S' Stay Happy!
We have been looking at our support team, which is made of people we care about and who help us when we need them.
We will review what we have been learning about and play games to celebrate everyone's efforts. We will practise some of the relaxation techniques such as 'pizza massage' and breathing.
The username and password to log into FunFriends online is in your child's Home School Diary.
Central idea: Geography influences our experiences
Lines of inquiry
The significant features of places -form

How the features of a place influence our experiences -causation

The relationship of our location to other parts of the world – connection
Next week the children will finish and share their posters about a chosen country. 
MATHLETICS: Please find some time to use Mathletics at home. All the Year 2 tasks are now accessible to the children.
The games available on www.topmarks.co.uk are also extremely worthwhile so if you're in need of an educational activity for the iPad over the summer, please do look these up!
https://www.topmarks.co.uk/maths-games/daily10
https://www.topmarks.co.uk/maths-games/hit-the-button
The final week of the school year is a chance for the children to celebrate what their learning in Maths by playing a range of maths games. 
Writing focus: Writing to describe
The final week of school is an opportunity for the children to share the language skills based upon the theme of countries and travel writing. 
Summer Holiday Reading
Please do make sure your child is being read to over the summer holidays. Bedtime stories, books on the plane, or information about where you travel can be made accessible to all children with an adult reading and explaining them. This helps to develop the children's background knowledge, so important for their inference skills, their vocabulary and their general comprehension.
Also, please encourage your child to keep up their daily home reading habit.   Perhaps create a summer holiday reading journal!
Well done to:
2D – Hobert Yau and Summer Wong
2F – Khloe Tam & Alvin Lam
2K – Lulu Kam & Sherisse Shek
Mandarin – Lincoln Liu & Kyra Wu 2K
Spelling
There will be no more spelling lists this term.
Home Reading
Please read at home with your child each day and sign their Reading Journal. Please encourage your child to write the date and title in their Reading Journal, including for Big Universe. This will be the final week for Home Readers. 
In Big Universe, select 'Library'. On the right-hand side you will be able to select the 'grade' for your child. The appropriate grade selection is kindergarten, 1st grade and 2nd grade. This covers the age group of our children at BHS.
Mandarin – All children are encouraged to take a reading book home on the days when they have Mandarin lessons.
We love these ideas to get kids outdoors over the holidays from David Domoney! We've chosen the ones most suited to HK, but click on the link for the full list: https://www.daviddomoney.com/20-kids-summer-school-holiday-activities-ideas-to-spend-time-outside/
HIT YOUR LOCAL PARK
No garden? No problem! There are tons of green spaces across the country just waiting to be explored! Parks are a great free resource and there's always plenty to do.
You can also check out the activities for Love Parks Week, which raises awareness of the importance of public parks. Events include walks, cycle rides, pond dipping, art activities and music concerts.
ON YOUR BIKE!
Explore the great outdoors on wheels by following a local bike trail. They are usually well-maintained and make a great training ground for kids who aren't confident cycling on the roads. Plus they're scenic! Check out Cycle Route to find out what's around you.
HAVE A WATERFIGHT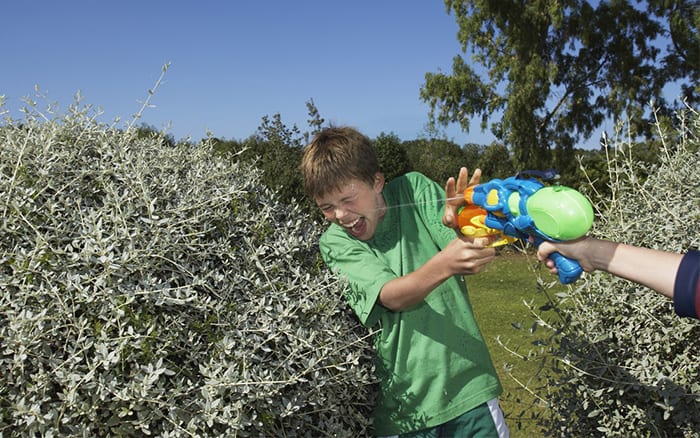 I'm sure you remember the fun-filled summer water fights of your childhood! I loved playing Squirt Tag – each player is armed with a water pistol and they must 'tag' their opponents by squirting them. Tagged players must freeze, but can still squirt at remaining players. The winner is the last one left unfrozen!
HAVE A PICNIC
Eating outside is one the great pleasures of summertime, so fill a basket with tasty goodies and pick a scenic spot! For something a bit different, go posh with canapés and mini-desserts.
COUNT THE BUTTERFLIES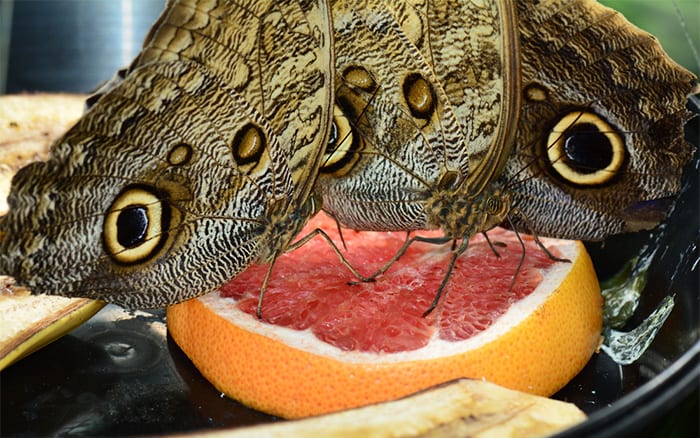 Join the Big Butterfly Count (19 July – 10 August), a nationwide survey to monitor our butterfly population. All you have to do is spend 15 minutes counting all butterflies you see in your garden, park, field or forest and submit your sightings online.
CREATE VEG STAMPS
Don't let veg go to waste! Reuse anything that is past its best as a stamp. Cut apples, pears and peppers in half to make great shapes, or carve designs (simple as you like!) into courgettes and potatoes. Wash, pat dry and then coat in paint and stamp away. Get kids to make patterns on brown paper, which makes great wrapping paper for presents.
PAINT PEBBLES
Acrylic paint is best, because it gives a glossy finish and stays put. Add in some googly eyes and a bit of glitter, and you've got cool free doorstops, paperweights and ornaments.